VANCOUVER, British Columbia, May 18, 2023 (GLOBE NEWSWIRE) — Alpha Copper Corp. (CSE: ALCU) (OTC: ALCUF) (FWB: PP0) ("Alpha," "Alpha Copper," or the "Company") a resource sector enterprise founded to create value through mineral exploration, technical development, and asset acquisition, is pleased to announce results and interpretation of a geophysical magnetic 3D inversion study on its Star Project in northwestern British Columbia.
The Star Project is located approximately 50 km NW of the community of Telegraph Creek in the traditional territory of the Tahltan First Nation and is situated in the highly prospective Stikine Arch; an important geological region that hosts numerous large porphyry copper-gold projects such as the Red Chris and Galore Creek deposits.[1]
Highlights:
Seven target areas with copper mineralization at surface are underlain by magnetic anomalies.
Magnetic lows relate to hydrothermally altered faults and are an expression of the porphyry system.
An oval-shaped magnetic high anomaly at the Star target may be associated with alkalic porphyry-style potassic alteration, and is 400 metres wide and starts at 150m depth, which has not been drill tested (Fig. 1).
"The results of the magnetic inversion study are consistent with the known extent of the mineralized system at the Star target to date," stated Darryl Jones, CEO of Alpha. "We can now use magnetic data to complement the geological model and we are currently focussing on filling gaps in the drill coverage while extending known mineralization laterally, and to depth. This drilling is expected to begin in June, 2023, and be completed by the start of August, 2023. The magnetic inversion also identified several anomalies that correlate with geochemical target areas identified in previous surficial sampling campaigns that are now closer to being drill tested."
Figure 1. Vertical section looking NW of the Star target area (see Figure 2) showing the resultant magnetic isosurfaces from the computer modelled 3D inversion, and historic drill results (Cu assay, ppm) is available at https://www.globenewswire.com/NewsRoom/AttachmentNg/1fa0d39e-da7c-47b8-bd23-0d15c7957329. A majority of drilling at the Star target tested the volume between two magnetic anomalies.
The review yielded magnetic filter products that clearly show variable magnetic intensity in bedrock at the main target areas on the property (i.e., Star and Star East; see Figure 1), as well as a sub-surface view of magnetic anomalies for geologic interpretation (see Figure 2). Anomalous magnetic stock-shaped features are present at each of the seven target areas. In addition to these anomalous features, a magnetic anomaly southeast of the Copper Creek occurrence has also been noted for follow-up surface exploration.
Several linear features identified in the magnetic dataset suggest several faults transect the target area. The magnetic anomaly beneath the Star target area appears to have been affected by at least two of these magnetite-destructive features; these breaks correlate with mineralization in the historic drill logs and may represent a sulfide-forming fluid pathway. The deeper parts of this break in the magnetic anomaly, is south of the majority of drilling on the Star and has not been significantly tested with diamond drilling to date.
The Company will focus exploration work in 2023 on the Star target area (Figures 1 and 2) after a comprehensive interpretation of the recently completed geophysical modelling. The priority drill test zones target a potential high grade and near-surface oxidized zone, and deep-seated (>500 m) disseminated and vein-hosted mineralization within and adjacent to the magnetic anomalies; potentially the core of a gold-copper porphyry style mineralized system.
Technical Detail on the Geophysical Modeling and Targeting
The 3D magnetic inversion was completed using high-resolution aeromagnetic data acquired during a 2013 heli-borne magnetic survey at 100 metre flight line spacing. The data was inverted using a 75 m2 by 37.5 metre mesh over the entire property and using a 25 m2 by 12.5 metre mesh over a target area covering the Star, Star East, and Copper Creek target areas (Figure 2). The unconstrained magnetic inversion in the detailed area was completed to a depth of 500 metres below the surface, and thus is a useful exploration technique utilized in locating buried stocks of typically felsic to intermediate composition that could be associated with porphyry style mineralization. The inversion was incorporated in the geological model of the project that also includes geological, magnetic susceptibility, and structural data collected from previous drilling campaigns.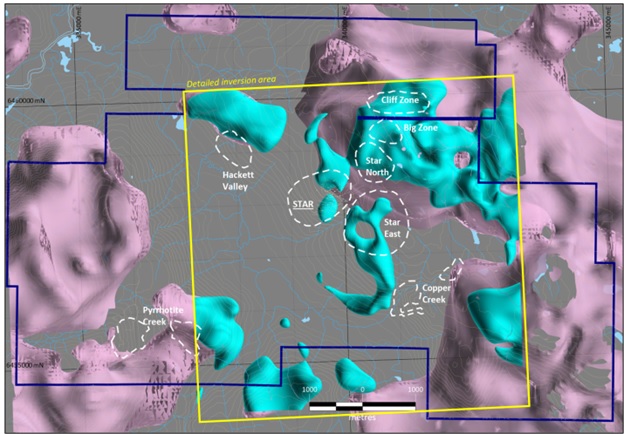 Figure 2. Plan-view of the Star Project mineral tenure with magnetic 3D modelled isosurfaces and predefined target areas shown is available at https://www.globenewswire.com/NewsRoom/AttachmentNg/95d23e11-0ebc-4778-bb5a-03a51545ea11. The pink isosurfaces are the resultant coarse 3D inversion, and the teal isosurfaces show the results of a more detailed modelled 3D inversion. Note anomalous magnetic features that were revealed with the detailed inversion.
Background on the Star Project
Information on the location, geology, history, and historical resources at the Star Project are presented on the Company's web site at the following link: https://alphacopper.com/projects/star-project/.
Qualified Person
Jeremy Hanson, P.Geo., is the qualified person for the Company as defined in the National Instrument 43-101 and has reviewed and approved the technical information presented within this news release.
On Behalf of the Board of Directors,
~Darryl Jones~
Darryl Jones
CEO, President & Director
Alpha Copper Corp.
Contact Alpha Copper
Invictus Investor Relations
+1 (604) 343.8661
walter@invictusir.com
About Alpha Copper Corp (CSE: ALCU) (OTC: ALCUF) (FWB: PP0):
Alpha Copper Corp. is focused on contributing to the green economy by finding and developing copper resource assets in stable jurisdictions. The Company is positioned to earn a 60% interest in the Indata copper-gold project located in north central British Columbia and a 100% interest in the Okeover copper-molybdenum project located near the coastal community of Powell River, British Columbia. After the recent acquisition of CAVU Energy Metals, the Company holds an option to acquire 100% of the Star copper-gold porphyry project in the Golden Triangle of BC, as well as an option to acquire up to 70% of the Hopper copper-gold porphyry project in the southern Dawson Range copper-gold belt of the southwestern Yukon, and further includes the 100%-owned Quesnel Project in the middle of the Quesnel Trough, host to a number of alkalic copper-gold porphyry deposits running northwest across western British Columbia. For more information visit: https://alphacopper.com/.
Forward-Looking Statements
This news release contains forward-looking statements and other statements that are not historical facts. Forward-looking statements are often identified by terms such as "will", "may", "should", "anticipate", "expects" and similar expressions. All statements other than statements of historical fact, included in this news release are forward-looking statements that involve risks and uncertainties. There can be no assurance that such statements will prove to be accurate and actual results and future events could differ materially from those anticipated in such statements. Important factors that could cause actual results to differ materially from the Company's expectations include the results of further exploration and other risks detailed from time to time in the filings made by the Company with securities regulators. The reader is cautioned that assumptions used in the preparation of any forward-looking information may prove to be incorrect. Events or circumstances may cause actual results to differ materially from those predicted, as a result of numerous known and unknown risks, uncertainties, and other factors, many of which are beyond the control of the Company. The reader is cautioned not to place undue reliance on any forward-looking information. Such information, although considered reasonable by management at the time of preparation, may prove to be incorrect and actual results may differ materially from those anticipated. Forward-looking statements contained in this news release are expressly qualified by this cautionary statement. The forward-looking statements contained in this news release are made as of the date of this news release and the Company will update or revise publicly any of the included forward-looking statements as expressly required by applicable law.
[1] The Red Chris and Galore Creek Deposits are advanced and developed projects and the reader is advised that the these are not indicative that a deposit will be defined on the Star Project or that the Star Project will be similarly advanced and developed.
GlobeNewswire is one of the world's largest newswire distribution networks, specializing in the delivery of corporate press releases, financial disclosures and multimedia content to media, investors, and consumers worldwide.