Doda district in the Jammu division of India was struck by a devastating road accident on Wednesday, leaving a trail of death and injuries that has shaken the entire region. The incident occurred around 12 noon when a bus, carrying approximately 55 passengers, lost control and plummeted into a deep 300-foot gorge in the Trangal area of Baggar, Doda district. As a result of the horrific accident, 36 people lost their lives, and many others sustained severe injuries.
The ill-fated bus, bearing the registration number JK02CN-6555, was en route from Kishtwar to Jammu when disaster struck. The initial reports suggest that the accident was a result of a reckless race between three buses on the Batote-Kishtwar National Highway, with this bus losing control in the process.
The death toll has tragically risen to 38, with 17 injured passengers currently undergoing medical treatment in local hospitals. The injured individuals are receiving care for their injuries sustained during the harrowing accident.
In the wake of this heart-wrenching incident, Prime Minister Narendra Modi expressed his deepest condolences to the families affected and announced immediate relief measures. He announced an ex-gratia of Rs 2 lakh for the families of each deceased passenger and Rs 50,000 for those who were injured. The Prime Minister stated, "The bus accident in Doda, Jammu and Kashmir is distressing. My condolences to the families who have lost their near and dear ones. I pray that the injured recover at the earliest. An ex-gratia of Rs. 2 lakh from PMNRF would be given to the next of kin of each deceased. Rs. 50,000 would be given to the injured."
The Doda district administration has also expressed its deep sorrow and sympathy for the victims and their families. To prevent the spread of misinformation and to provide essential information and assistance, helpline numbers have been released. The administration has urged people who have lost their loved ones in the accident to contact these numbers.
This tragic incident has sent shockwaves through the region, highlighting the importance of road safety and responsible driving. It serves as a stark reminder of the devastating consequences that can result from reckless driving and dangerous road conditions, especially on hilly and treacherous routes.
Local authorities are continuing their investigations into the accident, with a focus on determining the exact causes and circumstances that led to this horrific event. Additionally, they are working tirelessly to ensure that the injured passengers receive the necessary medical attention and support they require during this challenging time.
The Doda district, known for its picturesque landscapes and natural beauty, now mourns the loss of many lives in this devastating road accident. As the affected families and the entire community come to terms with this tragedy, the nation stands in solidarity with them, offering condolences and support to those affected by this heartrending incident. Road safety remains a pressing concern, and this incident serves as a somber reminder of the importance of adhering to traffic regulations and ensuring the safety of all road users.
01996233337 (DC Office Doda)
01996233465 (AH GMC Doda)
18001807122 (toll free number)
9906320997, 9596776203 (control room)
List of dead bodies: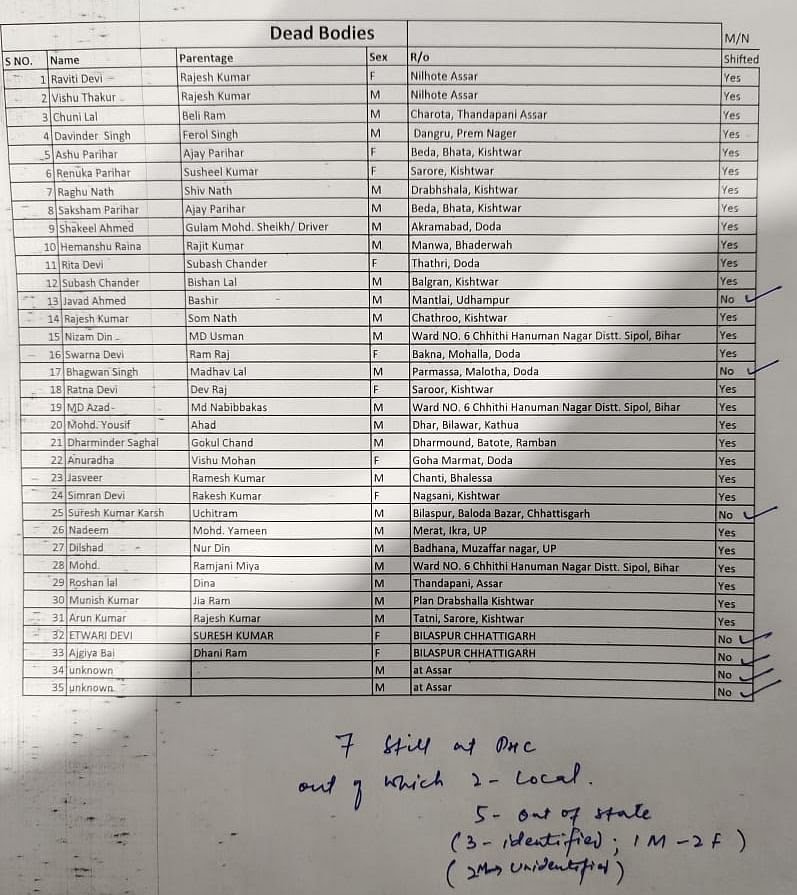 Four severely injured accident victims were transported by air to GMC Jammu. Sadly, two of them succumbed to their injuries, raising the death toll to 38. Principal GMC Ashutosh Gupta informed that four individuals were airlifted to their facility. A young girl is currently in stable condition and is being prepared for ICU admission, with her surgery scheduled for Thursday. Regrettably, two individuals could not be saved, while another remains in critical condition, and medical teams are working diligently to save his life.